I finally finished my entry for the
Sew & Tell
competition over at
A Craft a Day
. Stupid broken sewing machine, I still can't figure out what's wrong with it. Luckily my MIL has an old Singer that she let me borrow and I was able to finish.
AGAAGG
for inspiring me to make hair crap.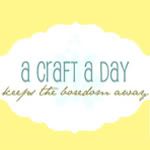 Don't forget to check out
A Craft a Day's
Sew & Tell
competition!
Edited: On a whim, I also decided to enter this in the
American Crafter
competition over at
Naptime Crafters
. Keep your fingers crossed for me for both of these!